ADATA External SSD 1TB SE770G USB 3.0 černá/žlutá
Pridať do obľúbených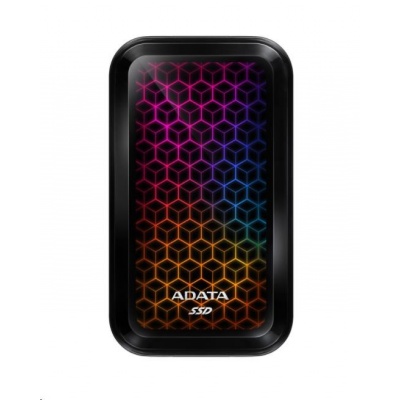 Popis
Parametre
Strážny pes
SE770G External Solid State Drive
Performance-driven and bold. That sums up the SE770G external solid state drive (SSD). With read/write speeds of 1000/800 MB/s and support for USB3.2 Gen 2 and Type-C, this external SSD is your go-to storage device for video and photo editing and gaming on the move. Performance aside, the SE770G will dazzle too with the unmistakable glow of RGB.
Bold and Brilliant
The SE770G isn't your typical run-of-the-mill external SSD. With a spacious panel of RGB, it will light up your work space with a glorious cube-patterned effect.
In the Shadows No More
Your external SSD doesn't have to lurk in the shadows anymore. With RGB lighting, the SE770G joins all your other RGB gear to bath your desktop in light.
Get Up to Speed
With USB 3.2 Gen 2 connectivity, the SE770G delivers read/write speeds up to 1,000/800 MB/s*, which is up to 12.5 times faster than traditional external hard drives*. This means it can transfer a 10GB 4K video file in just 20 seconds.
* Based on internal testing which compared the SE770G with an ADATA external HDD. The PC used during testing supports USB 3.2 Gen 2 and has UASP driver installed. Actual performance may vary depending on the host device's hardware and software configurations.
No Wrong Way with USB-C
The SE770G sports USB Type-C connectivity, which features a symmetrical connector that plugs in the first time, every time, regardless of orientation.
Use it with Your Game Console
The SE770G can be connected to game consoles and be used as backup storage for games that are not currently being played. For older game consoles, the SE770G can help to improve game loading performance for a more seamless experience.
* Actual loading times may vary depending on the game. Reformatting may be required for the external SSD to work with game consoles.
** Support for external storage devices varies by game console.
All Major OS Covered
Android*, macOS, and Windows, the SE770G supports them all. Enjoy your videos, photos, music, and everything else at any moment, and easily share them with the SE770G. Plus, it's great for gaming too.
* The software and hardware of the host device must be compatible with and support external solid state hard drives in order to utilize OTG data backup and transmission functions.
TECHNICAL SPECIFICATIONS
Capacity
1TB
Color
Black
Dimensions (L x W x H)
99.5 x 57.5 x18mm / 3.92 x 2.26 x 0.7inch
Weight
136g / 4.8oz
Interface
USB 3.2 Gen 2 Type-C
Sequential Read (Max)
Up to 1000 MB/s
Sequential Write (Max)
Up to 800 MB/s
Operating system requirements
Windows 8 / 8.1 / 10
Mac OS X 10.6 or later (reformatting required for use)
Linux Kernel 2.6 or later
Android 5.0 or later
Op. Temperature
0°C to 35°C
Op. Voltage
DC 5V, 900mA
Accessories
USB 3.2 Type-C to C cable,USB 3.2 Type-C to A cable, Quick Start Guide
Warranty
Limited 3-year
Note
1. Product includes USB-C to USB-C cable and USB-C to USB-A Cable. Connection to microUSB requires separate cable, not included.
2. Compatibility with specific host devices may vary and could be affected by system environment.
3. Connecting via USB 2.0 requires plugging in to two USB ports for sufficient power delivery. A USB Y-cable will be needed.
4. Please note that USB 3.0, USB 3.1 Gen2, and USB 3.2 Gen2 are in fact the same specification and feature the same exact performance capabilities. The USB Implementers Forum (USB-IF) recently rebranded USB 3.1 Gen2 to USB 3.2 Gen2. For more information about the change, please visit the USB-IF website at www.usb.org.
5. For use with macOS devices, reformatting is required. Please click here to learn more.
.
Rýchlosť otáčok (v RPM):
SSD
Kapacita pevného disku (v GB):
1 000
Rozhranie:
externí USB 3.0
Aktuálna cena produktu je
151
EUR  s dph