ADESSO myš iMouse E9, vertikální, pro leváky, optická
Pridať do obľúbených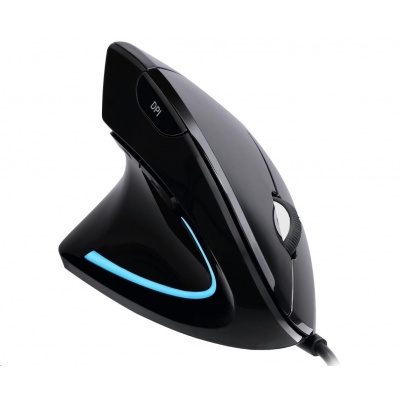 Popis
Parametre
Strážny pes
iMouse E9
This iMouse™ E9 Left-Handed Vertical Ergonomic Mouse is designed with a vertical orientation and a contoured shape that provides a uniquely comfortable user experience. Designed specifically for left-handers, this wrist-friendly contour support, you will hold your hand in a healthy "handshake position" which is the neutral position of your forearm. This feature prevents your forearm from twisting when using this vertical ergonomic mouse. Featuring two ergonomic buttons that are located conveniently on the side of the mouse allowing seamless back and forth browsing. The 800/1200/1600/2400 switchable DPI control provides four levels of mouse cursor speed that works in different environments. iMouse™ E9 – The advanced optical sensor technology keeps the mouse precisely on point and lets you work on most glass, wood, marble and leather surfaces without a mouse pad.
Ergonomic Vertical Design Made for Left-Handers
Left handed? No problem! with iMouse™ E9 – You can now enjoy our ergonomic vertical mouse design in your LEFT hand! This design provides better support for your forearm, minimizing wrist pain that can come from twisting. Our vertical ergonomic model helps you achieve a more natural grip, better support, and natural wrist position. With our sleek design and added support, the Adesso Vertical Ergonomic Left handed iMouse E9 is perfect for long hours of use.

Adjustable 4 Level DPI Switch (800 / 1200 / 1600 / 2400)
Attain higher precision and better accuracy with your choice of 4 DPI levels. From 800 ,1200 1600 and 2400 the easily-accessible DPI button lets you quickly switch between the various computer tasks you partake throughout the day.

Enhanced Optical Sensor
Optical sensor technology improves precision and even lets you work on most glass,wood,marble and leather surfaces without a need of mouse pad.

Back & Forward Buttons For Conveniency
Two Internet navigational buttons, back and forward, are conveniently located on the left side of mouse to provide you with Internet browser control with minimal hand movement.

TECHNICAL SPECIFICATIONS
Specifications

Tracking Method: Optical Sensor
Connectivity: USB
Resolution: 4 Levels (800/1200/1600/2400 DPI)
Buttons: 6 Buttons (Left & Right Click, Back & Forward, DPI Switch, Scroll Wheel)
LED Color: Blue
Hand Orientation: Left Hand Orientation
Dimension: 3.0" x 4.7" x 2.5" (75 x 125 x 63 mm)
Weight: 0.3 lb. (113 g)

System Requirements

Operating System: Windows® 2000 / XP / Vista / 7 / 8 / 10
Connectivity Interface: USB Port
.
Počet tlačidiel myši:
4 alebo viac tlačidiel
Rozhranie myši:
Drôtová USB
Aktuálna cena produktu je
38
EUR  s dph