ASUS chytré hodinky VivoWatch 5
Pridať do obľúbených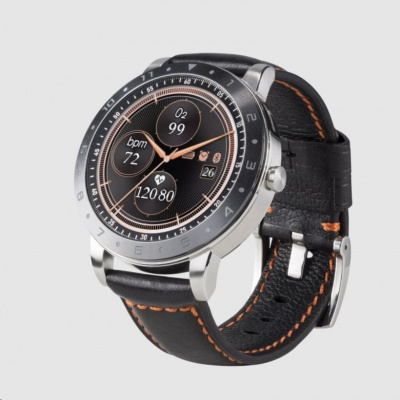 Popis
Parametre
Strážny pes
ASUS VivoWatch 5 (HC-B05)
Intelligent wearable health tracker that offers 24/7 health, fitness and sleep monitoring, plus smart insights to help you maintain a healthy lifestyle.
24/7 health-data tracking: Check your pulse-transit time (PTT), heart rate, body harmony index, de-stress level, sleep and activity to stay informed about your health.
Respiration and temperature monitoring: Track key indicators, such as blood-oxygen (SpO2) level and skin temperature, to help understand how well your body is coping with everyday life.
Sleep quality: Measure and analyze sleep duration, sleep stages, snoring patterns and body movement for an insightful look into how well you sleep.
Fitness tracking: Track workouts and view activity maps and stats, such as speed, distance, altitude and duration.
Personalized health insights: Benefit from the exclusive ASUS HealthAI technology in the ASUS HealthConnect app, and receive personalized health advice and health-management tips.
Stylish, convenient and durable: Enjoy a stainless-steel case, quick-release watch strap, up to 14-day battery life and a swim-proof design.
Display
High-reflective color LCD
Sensor
Sensors: x2 ECG (electricalgraphy), x2 PPG (photoplethysmography), x2 infrared, temperature,
activity Sensors: gravity sensor, GPS, altimeter, gyroscope
Bluetooth
Bluetooth 4.2 or Later (connect to android and iOS phone)
Sync
Android 4.4 or Later
iOS 11.0 or Later.
Power Consumption
10 days (typical usage), and 14 days (power saving mode)
Water resistance
5 ATM
Strap Size
22mm
Weight
52 g (without strap), 74 g (with silicone strap)
Battery
Capacity: 300 mA, charging cable connected by USB
Features
Wellness: (1) step (2) calories burned (3) sleep quality (snoring tracking, sleep time, flips times, average heart rate, comfort sleep index)
Health tracking.: (1) heart rate (2) De-stress level (3) PTT index (4)Pulse O2 level (5)Body harmony
Health management in ASUS HealthConnect APP: Family share, blood pressure management and medicine-taking reminder (by manual input)
.
Aktuálna cena produktu je
326
EUR  s dph