AVERMEDIA CM313BW Mini PCI-e HW Encode Capture Card with 3G-SDI, industrial
Pridať do obľúbených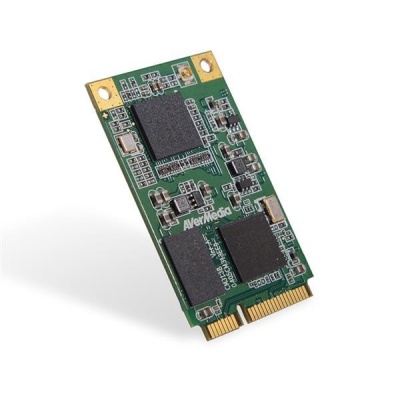 Popis
Parametre
Strážny pes
Wide Temperature 3G-SDI HW H.264 Mini-PCIe Frame Grabber
The CM313BW is a Mini PCIe HW encode video capture card which supports a single 3G-SDI input providing a nominal 2.970 Gbit/s interface for applications requiring HD 1080p video resolution. The CM313BW enables professionals to capture SD, HD, or 3G-SDI video footage in real-time 3G-SDI Video Input. The CM313BW offers stable operation in extreme environments under temperatures ranging from -40°C to 85°C (-40°F to 185°F).
Designed with 3G-SDI standards (SMPTE 424M), the CM313B offers uncompressed, H.264 digital video signal transmission, including embedded audio and supports input resolution up to 1920 x 1080 60fps. The SDI standard provides a nominal 2.970 Gbit/s interface specifically suited for applications such as in-vehicle, broadcasting, and surveillance.
Extended Temperature
AVerMedia delivers extended temperature solutions capable of withstanding extreme environmental conditions without compromising functionality. The extended temperature capture card line operates within temperature ranges of -40°C to 85°C (-40°F to 185°F). The thermally robust product line is specifically designed to provide greater flexibility for rugged and industrial applications, including: medical, industrial automation, factory automation, in-vehicle, and more.
AVerMedia guarantees that our products are made in accordance with the highest standards, ensuring a wide temperature range, design compactness, durability, high performance, and extended life cycles. Our design and testing procedures meet these requirement through the use of extended-temperature-grade components, onboard soldering of critical components, detailed engineering designs for wide temperature ranges, and certified testing under harsh conditions.
The main features of the AverMedia designs for extended temperature solutions include:
Extended temperature grade components selected
Critical components soldered on-board
Detailed engineering designs for wide temperature ranges
Certified testing under harsh conditions
Dual Data Output Formats
CM313BW Mini PCIe video capture card supports real time mega pixel video images from any standard 3G-SDI onto a computer. Enabling professionals real-time streaming, video production and post production of live uncompressed 8-bit SDI SD-, HD- and 3G-SDI capturing up to 1920 x 1080. Featuring dual data output formats, the CM313BW can simultaneously uncompressed raw data and compress H.264 HW TS maintaining a low CPU loading.
At a Glance:
Interface: Mini PCIe
Maximum resolution: 1920 x 1080 60fps
Operating system: Windows 7/8.1 (32/64-bit), Linux
Supported SDK language: C, C++, C#, VB, VB.net, Delphi
H/W encoding format: H.264/AAC
Audio input: SDI, embedded audio
Features:
Supports extended operating temperatures from -40° to 85°C
H.264 H/W encoding Mini-PCIe
HD video capture with 3G-SDI input
Low latency uncompressed video/audio and H.264 transport stream outputs
Supports AES embedded audio inputs
Specifications:
Interface
Mini PCI-e
Channel No.
1
Max. Resolution
1920x1080
Frame Rate
24p, 25p, 30p, 50p, 60p, 50i, 60i
Color Format
YUY2(4:2:2), YV12 (4:2:0), RGB24
Color Depth
8 bit
Supported OS
Windows 7/8.1/10 (32/64 bits), Linux (32/64 bits)*
SDK Supported Language
C, C++, C#, VB, VB.net, Delphi
H/W Encode Format
H.264/AAC
Audio Input
SDI (embedded audio)
Operating Temperature
Temperature:-40°C to 85°C (-40°F to 185°F)
Humidity: 0 to 90% RHNC
Storage Environment
Temperature: -50°C to +100°C
Humidity: 0 to 90% RHNC
Dimensions (L x W)
50.95 x 30mm
.
Druh zariadenia:
Strihová karta
Ďalšie parametre:
Nahrávanie z ext. zdrojov
Aktuálna cena produktu je
257
EUR  s dph