CHERRY klávesnice se čtečkou karet KC 1000 SC-Z, USB, EU, světle šedá
Pridať do obľúbených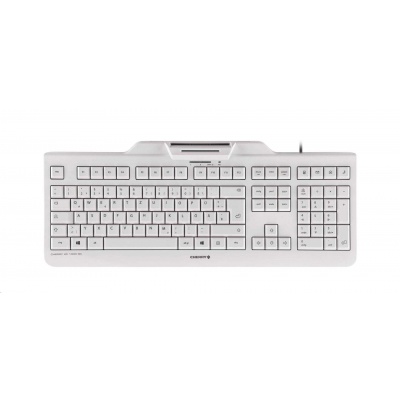 Popis
Parametre
Strážny pes
CHERRY KC 1000 SC-Z
Saves space on the desk and connections on the PC with just one USB port: the CHERRY KC 1000 SC-Z security keyboard with integrated Class 2 reader. Developed and produced in Europe under BSI-certified conditions. The integrated smart card terminal satisfies all the requirements relating to electronic signatures, authentication, data encryption and access authorization. Together with the relevant applications, this corded security keyboard is effectively the reliable doorman in the workplace - certified, intelligent and uncompromising. It provides the necessary long-term security - and without access rights you can´t get in...
Smart, wired security keyboard with integrated chip card terminal
Secure alphanumerical PIN input (Class 2 reader)
Certifies in accordance with Common Criteria
Evaluation level equivalent to EAL3+, without ALC_DEL
Sealed housing, protection against exposure of matrix inquiry
Especially recommended for electronic signatures (eIDAS)
PC/SC, CCID-compatible
Protocols: T=0, T=1, S=8, S=9, S=10
Reading/writing ISO 7816 compliant smart cards
Satisfies requirements defined by FIPS-201
DE version complies with DGUV 215-410 guidance for ergonomics
Driver support for Windows/MacOS-X/Linux
One-handed operation of smart card module
German version with DIN/GS compliant layout
TECHNICAL SPECIFICATIONS
Weight (product)
approx. 840 g
Total weight (with packaging)
1150 g
Cable Length
approx. 1.80 m
Storage Temperature
-20°C to 65°C
Operating Temperature
0°C to 50°C
Current Consumption
max. 100 mA
Interface
USB
Product approvals
- UL Recognized Component Approval
- VDE GS
- c-tick
- VCCI
- CE
- FCC
- FIPS 201
System requirements
USB connection
Delivery Volume
- CHERRY KC 1000 SC-Z
- Operating instructions in hard copy
Dimensions (product)
approx. 458 x 188 x 46 mm
Packaging dimensions
approx. 472 x 232 x 55 mm
Keyboard
Key technology
LPK
Service life, standard key
> 10 million key operations
Number of additional keys
4
Smart card reader
Type
Mechanical
Hardware interface
USB
Chip-card protocols
T=0, T=1, S=8, S=9, S=10
Contact
Mechanical swipe reader
Software interface
CT-Api, PC/SC
Mating cycles
approx. 100,000 operations
Compatible chip card types
Reads and writes on all ISO 7816 cards
Transmission speed reader <==> card
420 kBit/s
Transmission speed reader <==> system
max. 12 MBit/s
Chip card pulse frequency
4.8 MHz
.
Lokalizácia klávesnice:
EN
Typ klávesnice:
Membránová
Rozhranie klávesnice:
Drôtová USB
Aktuálna cena produktu je
46
EUR  s dph