CHERRY myš MW 8 Ergo, bezdrátová, optická, USB
Pridať do obľúbených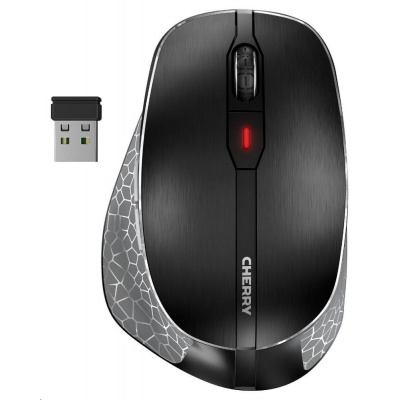 Popis
Parametre
Strážny pes
CHERRY MW 8 ERGO
Uncompromising quality, exquisite design, the very latest technology and the finest materials: These are the ingredients of the CHERRY MW 8 ERGO wireless mouse.
Superior handling, especially for right-handed users
Ideal for large hands
Thumb-rest for fatigue-free working
Metal surface and mouse wheel
Rubber-padded sides with trendy Voronoi pattern
Optionally connected using Bluetooth or a 2.4 GHz wireless unit – both with AES-128 encryption.
Highly precise sensor and is equipped with resolution that can be adjusted in four stages up to 3,200 dpi
Works on nearly all surfaces, including glass
Status LED shows low residual battery charge, charging status and resolution
Lithium battery can be charged per micro USB
Extra-small nano receiver for wireless operation
6 buttons and a scroll wheel
Includes practical transport pouch
TECHNICAL SPECIFICATIONS
Weight (product)
Mouse: approx. 123 g
Receiver: approx. 3 g
Transport pouch: approx. 9 g
USB charger cable: approx. 21 g
Total weight (with packaging)
approx. 196 g
Transmission range
Frequency range: 2.400 GHz - 2.4835 GHz
Effective radiated power: max. 10 mW (EIRP)
Range
RF: approx. 10 m
Bluetooth®: approx. 10 m
Batteries
Built-in rechargeable Li-Ion battery with 550 mAh
Battery operating time
Up to 70 days with a full battery charge (depending on usage and ambient conditions)
Connection
Wireless, optionally using 2.4 GHz frequency with AES-128 encryption or Bluetooth® 4.0
Storage Temperature
-15 °C to 60 °C, max. 85 % humidity
Operating Temperature
0 °C to 40 °C, max. 85 % humidity
Connection sockets
Micro USB socket for charging cable
Product approvals
- CE
- FCC
- WHQL Win 10 64-bit
- USB IF
- Bluetooth® SIG licensing
- UL
Dimensions (product)
Mouse: approx. 120 x 79 x 44,5 mm
Receiver: approx. 19 x 14,5 x 6,5 mm
Packaging: approx. 92 x 134 x 57 mm
System requirements
For connection using Bluetooth®: Compatible device with Bluetooth® 4.0 (Low Energy) or higher
For connection using USB: Free USB port, Windows 7, 8 or 10
Delivery Volume
- Mouse
- USB-Receiver
- Transport pouch
- USB charger cable
- Manual
Mouse
Scanning
Optical (Sensor: PixArt PAW3805EK, Track on Glass)
Resolution
600 / 1000 / 1600 / 3200 dpi (adjustable)
Number of Keys
6
Mouse wheel design
Scroll wheel with optical tracking and key function
Design
Right-handed design
.
Počet tlačidiel myši:
S kolesom
Rozhranie myši:
Bezdrôtová USB dongle
Aktuálna cena produktu je
60
EUR  s dph