CHERRY set klávesnice + myš DW 9000 SLIM, bezdrátová, EU, černá
Pridať do obľúbených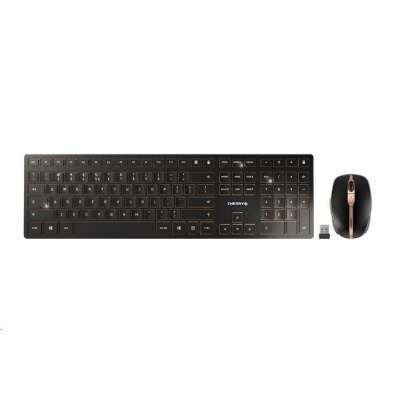 Popis
Parametre
Strážny pes
CHERRY DW 9000 SLIM
The CHERRY DW 9000 SLIM desktop set stands out due to its innovative functions, excellent workmanship and trendy, flat design.
Optionally connected using Bluetooth® or a 2.4 GHz wireless unit – both with AES-128 encryption
Lithium batteries in the mouse and keyboard can be recharged via micro USB
Status LEDs show low residual battery charge, charging status and mouse resolution
Additional status LEDs for the CAPS LOCK, NUM and SCROLL keys
Extra-small nano receiver for wireless operation
6 mouse buttons and a scroll wheel
Precise sensor with three-level adjustable resolution up to 1,600 dpi
Durable key lettering
Solid metal plate in the keyboard for maximum stability
Precise scissor mechanism for an ideal operating feeling
Rubber feet for individual height adjustment
TECHNICAL SPECIFICATIONS
Weight (product)
Keyboard: approx. 650 g
Mouse: approx. 90 g
Receiver: approx. 3 g
Total weight (with packaging)
approx. 1000 g
Transmission range
approx. 10 m
Frequency range
26.957 MHz - 27.283 MHz (frequency)
Effective radiated power: max. 10 mW [EIRP]
Storage Temperature
-20 °C to 60 °C max 85% humidity
Operating Temperature
0 °C to 40 °C max 85% humidity
Current Consumption
Keyboard: max. 4 mA
Mouse: max. 13 mA
Receiver: max. 28 mA
Interface
Wireless, optionally using 2.4 GHz frequency (via USB receiver) or Bluetooth® 4.0 - both with AES-128 encryption
Connection sockets
Micro USB port for charging cable
Product approvals
- cURus
- CE
- FCC
- WHQL Win 10 64-bit
- Bluetooth® SIG licensing
System requirements
- For connection using Bluetooth®: Compatible device with Bluetooth® 4.0 (Low Energy) or higher
- For connection via USB: Free USB port (type A), Windows 7, 8 or 10
Delivery Volume
- Keyboard
- Mouse
- Transport pouch
- Nano-USB transmission receiver
- 4 rubber feet
- USB-A/Micro-USB charging cable
- Manual
Dimensions (product)
Keyboard: approx. 440 x 130 x 15 mm
Mouse: approx. 99 x 62,5 x 33,5 mm
Receiver: approx. 19 x 14,5 x 6,5 mm
Rubber feet: approx. 12 x 25 x 17 mm
Charging cable: approx. 120 cm
Packaging dimensions
approx. 570 x 170 x 45 mm
Mouse
Scanning
Optical Sensor (PixArt)
Resolution
600 dpi / 1000 dpi / 1600 dpi (adjustable)
Number of Keys
6
Function button
Right/Left-click, Scroll wheel; Browser for; Browser back, DPI-switch
Mouse wheel design
Scroll wheel with key function
Design
Symmetrical
Keyboard
Design
Chiclet-Layout with numeric block
Key technology
SX
Service life, standard key
> 10 million key operations
Number of additional keys
6
Additional keys function
Windows Lock, Browser, Volume up, Volume down, Mute, Calculator
.
Počet tlačidiel myši:
S kolesom
Lokalizácia klávesnice:
EN
Výbava klávesnice:
Multimediálne klávesy
Rozhranie setu:
Bezdrôtové Bluetooth
Aktuálna cena produktu je
95
EUR  s dph