Cooler Master case HAF 700, ATX, bez zdroje, průhledná bočnice, šedá
Pridať do obľúbených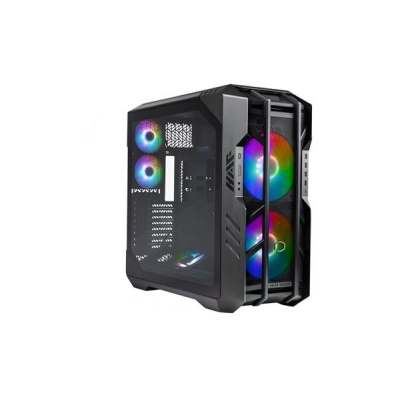 Popis
Parametre
Strážny pes
HAF 700
Raw Power Unleashed

HAF 700 is a case built to brute force and shatter the ceiling of component potential, maximize results and provide the smoothest system operation experience possible. Establishing new grounds in thermal efficiency, this stealthy powerhouse elevates the function and impact of any components installed without fail. From a premium build experience, to robust quality, and performance you can rely on, each detail of HAF 700 has been fine-tuned to satisfy the needs of every power user.
In Spirit of Cooler Master's HAF Legacy - Debuted in 2008, HAF has long been synonymous with exquisite performance and DIY freedom. HAF 700 embodies the spirit and soul of HAF's classic, performance oriented design, while boasting mechanical detail and aesthetics.
The HAF Standard In Cooling - When it comes to HAF 700, expect only the best in product quality and thermal performance. Crafted to maintain and minimal noise levels at stock configuration, HAF 700 breaks industrial limits when it comes to hardware performance. From fifteen 120mm fans, to dual 360 radiators and 480mm radiators, HAF 700 effortlessly gives you an edge over the rest.
A Decade of HAF Design, Revolutionized - HAF 700 utilizes an extensive tool-less system with the goal of making the build process as easy and streamlined as possible for both experienced and casual builders alike. Featuring innovative breakthroughs such as toolless GPU and PSU installation, this unique chassis provides an experience found nowhere else on the market
ARGB Gen 2: Full Range Customization Unlocked - Pre-installed with ARGB Gen 2 devices from top to bottom, HAF 700 offers users unprecedented levels of freedom in lighting customization. Unlike Gen 1 ARGB devices which forces lighting to be controlled together in sets, ARGB Gen 2 allows each LED to be independently controlled. Backwards compatible and fully supporting third party devices, ARGB Gen 2 allows vastly diverse setups to be brought to life in a few simple clicks.
TECHNICAL SPECIFICATIONS
Product Name
HAF 700
Product Number
H700-IGNN-S00
Exterior Color
Titanium Grey
Material
Exterior: Steel, Plastic
Left Side Panel: Tempered Glass, Steel, Plastic
Dimensions (L x W x H)
Body size - 556 x 279 x 540 mm
incl. Protrusions - 666 x 291 x 626 mm
Motherboard Support
Mini-ITX, Micro-ATX, ATX, E-ATX, SSI-CEB, SSI-EEB
Expansion Slots
8
Drive Bays
3.5" / 2.5" Combo: 9 (4*HDD bracket, 5*Screw+Rubber)
I/O Panel
USB Ports: 1 x USB 3.2 gen 2 Type C, 4 x USB 3.2 gen 1 (3.0)
Audio In/Out: 1 x 3.5mm 4poles Audio Jack, 1 x 3.5mm Mic Jack

Pre-installed Fan(s)
Front: 2x SickleFlow 200 ARGB PWM
Rear: 2x SickleFlow 120 ARGB PWM
Top: N/A
Bottom: 1x SickleFlow 120 ARGB PWM
Fan Support
Top: 2 x 200mm, 3 x 140mm, 6 x 120mm (Remove 480mm bracket)
Front: Up to 2x 200mm
Rear: Up to 2x 120mm
Bottom: Up to 3x 120 / 3x 140mm
Side mount: Up to 4x 120 / 3x 140mm
Radiator Support
Top: Up to 2x 360mm / 1x 420mm
Front: N/A
Rear: Up to 240mm
Bottom: Up to 420/360mm
Side mount: Up to 480/420/360mm
Clearances
CPU Cooler: 166mm / 6.53 inch
Power Supply: 200mm / 7.87 inch
Graphics Card: 490mm / 19.29 inch
Cable Routing
Behind MB Tray - 90~101mm
Additional Included Accessories
1x Rotatable Radiator Bracket
1 x LED Controller A1 (ARGB Gen2)
1 x ARGB/PWM Hub
Dust Filters
Bottom, Right Side
Power Supply Support
Bottom Mount, ATX
Warranty
2 Years
.
Prevedenie skrine:
Mini ITX
Počet pozícií 3.5" (HDD):
9
Vybavenie PC skrinky:
Priehľadná bočnice
Vybavenie PC skrinky:
Bez integrovaného zdroja
Vybavenie PC skrinky:
Predný Audio panel
Vybavenie PC skrinky:
Predný USB panel
Aktuálna cena produktu je
319
EUR  s dph