Cooler Master case MasterBox 520, ATX, bez zdroje, průhledná bočnice, černá
Pridať do obľúbených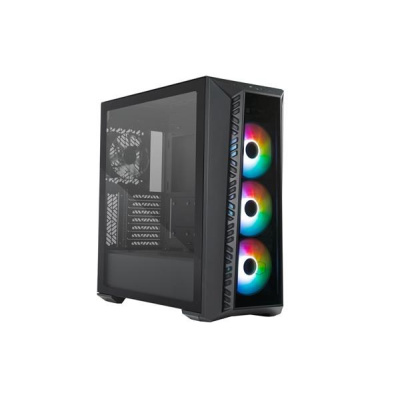 Popis
Parametre
Strážny pes
Masterbox 520
Power up and get ready to shine.
MasterBox 520 is the ideal chassis for both novice and experienced gamers alike, providing users multiple options in case design to satisfy different needs. Whether you place upmost value on system performance and high-quality gaming experiences, or dazzling aesthetics and an outlook that stands out, MasterBox 520 has something in for you. Pre-installed with three CF120 ARGB fans, your system is brought to life with stunning lighting effects, completely customizable to match your theme or preference. Additional mechanical upgrades such as a removable top panel and robust dust filter ensure a pleasant, hassle-free installation experience.
Tempered Glass Front Panel – Enhance the beauty of your system with the crystal-clear tempered glass front panel, designed to showcase lighting effects of installed ARGB devices.
Three CF120 ARGB Fans Included – Pre-installed CF120 ARGB fans provide ample airflow, ensuring low temperatures, high performance, and eye-catching aesthetics during even the most intense gaming sessions. The included ARGB controller allows users to manage systems lighting independently from the hardware configuration if needed.
Removable Top Panel – The top panel is entirely removable for improved access to the components during assembly. Ease of use also facilitates the mounting of cooling solutions such as fans and radiators.
Screwless & Tool-Free TG Side Panel – The tempered glass side panel is secured with pins for easy removal, facilitating quick access to the internals without the use of tools. An optional screw can be installed to further secure the tempered glass side panel.
Versatile Cooling Options – Support for up to seven 120mm fans and dual 360mm radiators on the top and front panel ensure high compatibility for liquid-cooled systems.
Removable HDD cage – The HDD cage is completely removable for improved access during assembly and system upgrades.
Upgraded Removable Dust Filter Bracket – The bottom dust filter bracket is robust and locked sturdily in place during travel, remaining easy to remove for cleaning purposes.
TECHNICAL SPECIFICATIONS
Product Number
MB520-KGNN-S01
Exterior Color
Black
Material
Exterior - Steel, ABS Plastic, Tempered Glass
Left Side Panel - Tempered Glass
Dimensions (L x W x H)
incl. Protrusions - 502x 210 x 498mm
Body size - 443x 210 x 498mm
Volume
50L
Motherboard Support
Mini-ITX, Micro-ATX, ATX, SSI-CEB, E-ATX*
(*up to 12" x 10.7" motherboards, may impact cable management feature)
Expansion Slots
7
Drive Bays
5.25" ODD - 0
3.5" HDD - 2
2.5" SSD - 3
I/O Panel
USB Ports - 1 x USB 3.2 Gen1 Type-A + 1x USB 3.2 Gen2 Type-C
Audio In / Out - 1x 3.5mm Headset Jack (Audio + Mic)
Others - 1x RESET/ARGB button
Included Accessories
ARGB Fans Hub
Included Fan(s)
Top - N/A
Front - 3 x CF120 ARGB
Rear - 1x MasterFan Lite 120
Fan Support
Top - 3 x 120mm / 2 x 140mm
Front - 3 x 120mm / 2 x 140mm
Rear - 1 x 120mm
Radiator Support
Top - 120/140/240/280/360mm (recommended maximum thickness - 55mm)
Front - 120/140/240/280/360mm
Rear - 120 mm
Clearances
CPU Cooler - 165mm / 6.49"
Power Supply - 200mm (Recommended up to 170mm)
Graphics Card - 410mm / 16.10"
Dust Filters
Bottom, Front, Top
Power Supply Support
ATX
Warranty
2 Years
.
Prevedenie skrine:
Mini ITX
Počet pozícií 3.5" (HDD):
2
Počet interných pozícií 2.5":
3
Vybavenie PC skrinky:
Priehľadná bočnice
Vybavenie PC skrinky:
Bez integrovaného zdroja
Vybavenie PC skrinky:
Predný Audio panel
Vybavenie PC skrinky:
Predný USB panel
Aktuálna cena produktu je
92
EUR  s dph