Cooler Master case MasterBox NR600P, E-ATX, černá, bez zdroje
Pridať do obľúbených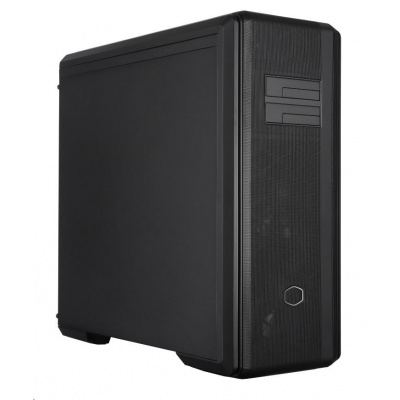 Popis
Parametre
Strážny pes
Crafting Performance
The MasterBox NR600P is a workstation powerhouse that can configure to a wide range of professions. SSI-EEB support, a professional-grade I/O panel, and unrivaled cooling capabilities make the MasterBox NR600P the most functionally adaptive E-ATX
case for creatives & professionals.
Each feature reflects different occupations with different needs. Onthe-job hot-swap support and massive storage expansions offer appealing solutions for i.e. video editors, whereas GPU intensive rigs benefit most from the ability to house multiple graphics cards. Built and designed by purpose, the MasterBox NR600P is an elegant chassis for uncompromisingly powerful hardware.
SSI-EEB Compatible – Dual CPU motherboards are supported for high-end, server-grade workstations.
Dual Hot Swap Bays – Two 2.5" SSDs, 3.5" HDDs, or a combination of both are conveniently accessible from the front panel for interchangeable, on-the-fly data retrieval.
SD Card Reader – A high speed, USB 3.0 SD Card Reader is integrated on the I/O panel for immediate access to files.
Dual 140mm Intake Fans – Two pre-installed 140mm fans provide high volumes of fresh air to the system, while one preinstalled 120mm fan exhausts hot air.
Fine Mesh – The Fine Mesh design on the front panel is proven to provide proficient airflow while filtering out dust for enhanced performance and hardware longevity.
Adaptive Storage Support – An included drive cage, able to mount 2 x 2.5" SSDs or 2 x 3.5" HDDs, can be adapted for multiple GPU configurations or repositioned for radiator support depending on the workstation's requirements. An optional drive cage can be added to the configuration.
Versatile Cooling Options - Support for up to six 120mm fans and front, top, and rear liquid cooling ensure the utmost in performance.
Pre-installed I/O cables sleeve – The front panel cables are pre-grouped in a modular plastic sleeve for an easier and faster assembly of the system.
Product Name

MasterBox NR600P

Product Number

MCB-NR600P-KNNN-S00

Exterior Color

Black

Materials

Exterior

Mesh, Steel, Plastic

Left Side Panel

Steel

Dimensions

(L x W x H)

Incl. Protrusions

493 x 220 x 506mm

Excl. Protrusions

482 x 220 x 477mm

Volume (Liters Excl. Protrusions)

50.6L

Motherboard Support

Mini-ITX, Micro-ATX, ATX, SSI CEB, E-ATX,

SSI-EEB

Expansion Slots

7

Drive Bays

3.5" HDD

1

3.5" / 2.5" Combo Cages

2

3.5" / 2.5" Hot swap bays

2 (toolfree)

2.5" SSD

4

I/O Panel

USB Ports

1 x USB 3.2 Gen 1 Type-C

2 x USB 3.2 Gen 1 Type-A

Audio In / Out

1 x 3.5mm Headset Jack (Audio + Mic)

Card Reader

1x SD/MMC USB 3.0 Card Reader

Included Accessories

N/A

Pre-installed Fan(s)

Top

N/A

Front

2 x 140mm DC fan

(1200 RPM ± 200 RPM, AirFlow blades)

Rear

1 x 120mm DC fan

(1200 RPM ± 200 RPM, AIrFlow blades)

Fan Support

Top

3 x 120mm / 2 x 140mm

Front

2 x 120mm / 2 x 140mm

Rear

1 x 120mm

Radiator Support

Top

120mm, 140mm, 240mm, 280mm, 360mm

(maximum thickness clearance 43mm)

Front

120mm, 140mm, 240mm*, 280mm*

(*requires repositioning of storage cage)

Rear

120mm

Clearances

CPU Cooler

171mm

Power Supply

276mm (Max)

180mm (Recommended)

Graphics Card

410mm

Cable Routing

Behind MB Tray

27~29mm

Dust Filters

Front, Top, Bottom

Power Supply Support

Bottom Mount, ATX

Warranty

2 Years
.
Prevedenie skrine:
Big Tower
Počet pozícií 3.5" (HDD):
3
Počet interných pozícií 2.5":
4
Vybavenie PC skrinky:
Predný USB panel
Aktuálna cena produktu je
104
EUR  s dph