Cooler Master case MasterCase SL600M Black Edition, ATX, Mid Tower, černá, bez zdroje
Pridať do obľúbených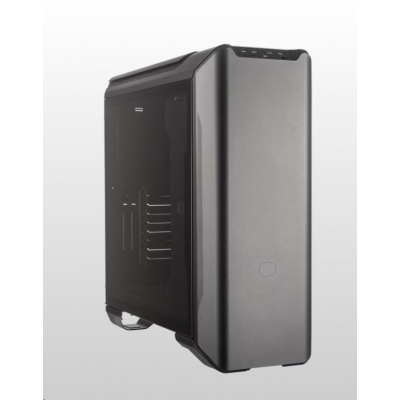 Popis
Parametre
Strážny pes
MASTERCASE SL600M BLACK EDITION - GOING DARK


Powder-Coated Aluminum Panels


Vertical Layout & Chimney Effect


Acoustic Noise Reduction


Operational Noise Reduction


Rotatable PCI Bracket


Versatile Storage Brackets


Proximity Lighting & I/O Panel


Adjustable Top Ventilation


THE SL, GOING DARK
The MasterCase SL600M Black Edition celebrates the dark side of hte SL Series - the side that gets irked by business casual attire and the hum of fluorescent office lighting. It prefers the comfort of shadowy corners, lit only by RGB from the latest gaming hardware.
Technology between the two SL models may be identical, bud the Black Edition marks aspecific rite of passage for the series: exaclty 1 year of stellar reviews and awards. What was once just a novel idea is now an intensively tested and proven method of cooling and noise reduction.
Of course, the original Work/Play concept is as valid as it ever was, but the MasterCase SL600M Black Edition much prefers the latter.
POWDER-COATED ALUMINUM PANELS
Better suited to its covert personality, a jet-black powder coat embellishes the aluminum panels and internal layout.
VERTICAL LAYOUT & CHIMNEY EFFECT
Fresh, cool air is taken from the bottom of the case, assisting the natural rise of hot air out of the top of the case for proficient thermal performance.
ACOUSTIC NOISE REDUCTION
Since the path of airflow is from bottom to top, the front and rear panels of the case act as a shield against noise. From the front, noise is shielded from escaping toward the user, while the rear panel prevents noise from bouncing off neighboring walls, minimizing acoustics.
OPERATIONAL NOISE REDUCTION
Noise is further reduced by large, low RPM fans in comparison to smaller, conventional fans. With efficient case cooling, there is an increased potential for system fans to operate quieter in turn. For maximized noise reduction, the dual 200mm fans can be set to their lowest RPM setting via the I/O Panel.
ROTATABLE PCI BRACKET
The entire window of the PCI Bracket is rotatable. This allows the unique option of mounting multiple graphics cards vertically and with more clearance away from the glass side panel, increasing the amount of air available to vertical graphics card(s).
*riser cable sold separately
VERSATILE STORAGE BRACKETS
The SL600M features versatile brackets that can mount an SSD, HDD, or a pump/reservoir for liquid cooling. Brackets can be placed in multiple positions inside the case, including the bottom radiator bracket and behind the front panel.
PROXIMITY LIGHTING & I/O PANEL
A proximity sensor triggers the USB lighting for easy access in the dark. The panel will stay temporarily lit before turning off automatically. Furthermore, the I/O Panel features a USB 3.1 (Gen 2) Type-C port, four additional USB ports, a PWM fan speed slider, a headset jack (audio + mic), and a dedicated microphone jack.
ADJUSTABLE TOP VENTILATION
The aluminum top panel can be adjusted to 3 different positions. The panel can either stay flush against the mesh, raised, or completely removed.
TECHNICAL SPECIFICATIONS




Model Number
MCM-SL600M-KGNN-S00



Series
MasterCase Series



Size
Mid Tower



Color
Black



Materials
Steel, Aluminum, Tempered Glass



Dimension (L x W x H)
544 x 242 x 573mm



Motherboard Support
Mini ITX, Micro ATX, ATX, E-ATX*, (*E-ATX support for up to 12" x 10.7", will limit cable management features)



Expanstin slots
9+2 (Supports vertical graphics card installation)



5.25" Drive Bays
0



2.5"/3.5" Drive Bays (Combo)
4



Drive Bays - SSD
4



I/O Panel
1x USB 3.1 (Gen 2) Type-C port
2x USB 3.0
2x USB 2.0
PWM fan speed slider
headset jack (audio + mic) + dedicated microphone jack



.
Prevedenie skrine:
Midi Tower
Počet pozícií 3.5" (HDD):
4
Počet interných pozícií 2.5":
4
Vybavenie PC skrinky:
Priehľadná bočnice
Aktuálna cena produktu je
196
EUR  s dph