Elo terminál M50, 2D, SE4710, USB-C, BT, Wi-Fi, NFC, kit, GMS, RB, black, Android, 4G, GPS
Pridať do obľúbených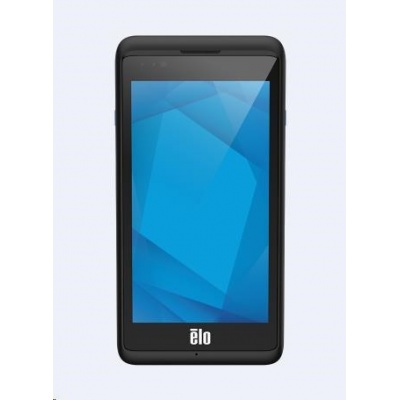 Popis
Parametre
Strážny pes
portable data collection device, touch monitor, retail/industry, warehouse, 2D, imager (SE4710), GPS, Cam (8MP, auto-focus), 14 cm (5.5''), USB-C, Bluetooth, Wi-Fi (802.11ac), 4G, NFC, Micro SD-Slot (max. 256GB), resolution: 1280x720 pixels, RAM: 4 GB, Flash: 64 GB, 256 GB, Android (10), protection class: IP64, IP65, MIL-STD 810G, incl.: cable, power supply unit, Google Mobile Services, battery, 4000mAh, removable battery, colour: black

The Elo M50 is a robust, enterprise-class Android mobile computer that impresses everyone in retail, hospitality, as well as light warehouse and logistics with its multiple features and ergonomic design.
The Elo M50 is equipped with an intuitive 5.5" HD touch display (1,280 x 720 pixels) with Gorilla Glass and a water-repellent coating. Because it has been designed for diverse and demanding tasks, the mobile computer is also very robust: the Elo M50 is both IP65- and MIL-STD-810-G-certified. This means it is protected against dust & water and is impact-resistant from a height of 1.2 m. It has two programmable buttons, a powerful 2D scanner (SE4710 scan module), and a replaceable 4,000 mAh battery with an integrated NFC antenna. The battery of the Elo M50 is designed for long workdays with up to 12 hours of continuous power and charges quickly: it is fully recharged within 90 minutes via the Qualcomm quick-charge interface.
Thanks to Wi-Fi 802.11 ac (2x2 MU-MIMO) and 4G/LTE, the Elo M50 is a real communications talent that is suitable for both indoor and outdoor usage. For fast data exchange, it has a MicroSD interface as well as Bluetooth 5.0 and NFC. The Elo M50 connects to any USB-C host via the dual-mode USB-C interface and thus may be used as a practical workstation at the desk. The mobile computer takes photos with its 8 megapixel camera with white LED light.
Excellent performance in every task is ensured by its Android 10 operating system with GMS, a powerful Qualcomm 660 processor, 4 GB RAM and 64 GB memory. Thanks to EloCare, the M50 mobile computer is supported with security updates up to Android 12 - making it a sustainable investment. Users have several apps from Elo at their disposal that may be configured individually. For example, »OEM Config« quickly and easily connects additional devices to the mobile computer.
Many accessories are available for the Elo M50, including payment sleds to make payment transactions via Ingenico IPP457C or Verifone E355 devices, a holding strap that easily attaches to the back of the M50, as well as a 4-way charging cradle, 4-way battery charger, and more.
.
Aktuálna cena produktu je
899
EUR  s dph