Logitech Lift Vertical Ergonomic Mouse for Business, left, 2.4GHZ/BT, graphite/black
Pridať do obľúbených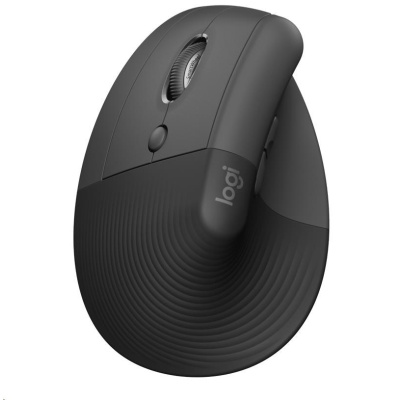 Popis
Parametre
Strážny pes
Lift Vertical Ergonomic Mouse for Business
SCIENTIFIC APPROACH - The science of ergonomics is an integral part of our designers' and engineers' process of creating a new mouse. Ergo Series mice offer more natural postures, superior ergonomic benefits, and reduced movement or muscle strain and striking form factors.
MORE NATURAL POSTURE - Ergo products like Lift for Business place fingers and hands in a more natural posture, helping to relax the upper body. This leads to a quantifiable reduction in muscle activity, so work is more productive with less strain and forearm muscle fatigue.
INCREASED COMFORT - Reducing muscle strain and fatigue, while adding proper hand support, leads to a greater comfort, especially during long periods or work. Ergonomically-designed products help people focus on what matters.
ERGONOMICS IS ECONOMICS - Ergonomic equipment helps people work more comfortably, with higher efficiency and quality, with less downtime. It results in happier employees with lower absentee days. In short, ergonomics is good economics. Our Ergo Series can help your company become a healthier place to work.
TECHNICAL SPECIFICATIONS
Dimensions (H x W x D)
Lift for Business: 71 x 70 x 108 mm
Logi Bolt USB Receiver: 18.4 x 14.4 x 6.6 mm
Weight
Lift for Business: 125 g
Logi Bolt USB Receiver: 2 g
System Requirements
Logi Bolt USB Receiver
Required: Available USB Port
Windows 10, 11 or later
macOS 10.15 or later
Linux
Chrome
Bluetooth Low Energy Wireless Technology
Required: Bluetooth Low Energy
Windows 10, 11 or later
macOS 10.15 or later
Linux
Chrome OS
iPadOS 14 or later
Android 8 or later
Technical Specifications
Wireless technology
Logi Bolt USB Receiver
Bluetooth Low Energy Technology
Wireless range
Up to 10 meters wireless range
Battery
1x AA battery
Battery life: 24-Months
Mouse scrolling
SmartWheel
Buttons
Four, easy to reach customizable side buttons
Optional software
Logi Options+, available on Windows and macOS, to customize buttons, work faster and more efficiently – likely back/forward or copy/paste.
Mouse tracking DPI
4000 DPI (Fully adjustable DPI)
Package Contents
Lift Vertical Ergonomic Mouse
Logi Bolt USB Receiver
AA Battery
User documentation
Warranty Information
2-Year Limited Hardware Warranty
.
Počet tlačidiel myši:
4 alebo viac tlačidiel
Rozhranie myši:
Bezdrôtová USB dongle
Aktuálna cena produktu je
72
EUR  s dph