Motorola/Zebra Terminál TC52, 2D, BT, Wi-Fi, NFC, GMS, Android
Pridať do obľúbených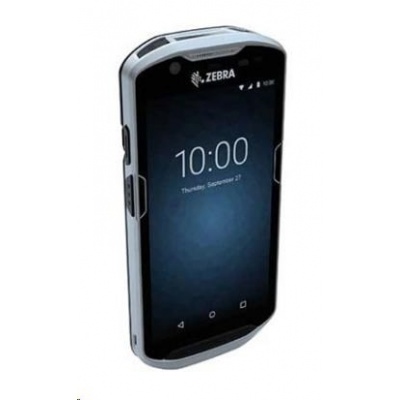 Popis
Parametre
Strážny pes
portable data collection device, 2D, imager, Cam (13MP, auto-focus), front camera (5MP), 12.7 cm (5''), Bluetooth, Wi-Fi (802.11ac), audio, NFC, Micro SD-Slot, 1280x720 pixels, Qualcomm Octa Core, 2.2GHz, RAM: 4 GB, Flash: 32 GB, Android (8.1), IP65, IP67, incl.: Google Mobile Services, battery, 4100mAh

The Zebra mobile touch computers TC52/TC57 are the evolutionary further development of the successful TC51/TC56, and are ideally adapted to meet the needs of your transport and logistics customers. They are equipped with a 5'' capacitive HD touch display with Corning Gorilla Glass, are impact-resistant from 1.2 m and master the biggest challenges with 14 hours of battery power. The TC52/TC57 are certified according to IP 65/67 standards. Splash water, dust and vibrations do not bother them.

Scanning and capturing data in field service and warehouses has never been easier, thanks to Zebra's pre-installed >>SimulScan<< DNA application. With one click your customers capture printed and electronic 1D and 2D barcodes, Digimarc codes, signatures, and document contents.

Exceptional performance for the TC52/TC57 is provided by Android 8.1 Oreo, in conjunction with a fast Qualcomm Octa-Core processor with 2.2 GHz, 4 GB RAM and 32 GB memory, which may be expanded to 256 GB via SDXC. Thanks to Bluetooth 5.0, both models are twice as fast when exchanging data with other devices - and that within a radius of 240 m.

Both handheld terminals feature the WLAN technology with 2x2 multiple user multiple input output (MU-MIMO) - allowing your customers to communicate with multiple devices simultaneously. Integrated, highly sensitive high-volume speakers filter out disturbing background noise - so both people understand every word, even in the noisiest of environments.

The TC52/TC57 are equipped with two cameras. The rear camera (13 MP) creates high-resolution photos and 4K videos - perfect for capturing the condition of products and sharing data with others. The front camera (5 MP) uses VLC (Visible Light Communication) to ensure a better, more detailed picture during the next video call.

The mobile touch computers may be integrated into existing systems and are backwards compatible with accessories. Zebra provides longer life support for the upcoming Android versions P and Q - as well as 8 to 10+ years support for security updates.

The TC57 also features LTE, GPS and 5 GHz 2x2 MU-MIMO, as well as a Nano-SIM card memory..
Aktuálna cena produktu je
991
EUR  s dph