Optoma vizualizér DC552 (13 Mpx, 1080p, HDMI, VGA)
Pridať do obľúbených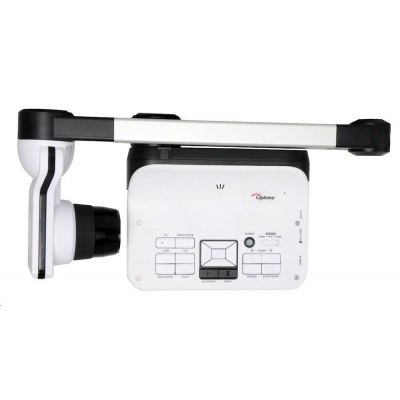 Popis
Parametre
Strážny pes
Easy to use
Simply connect via one of the available connection ports to any PC, projector or interactive flat panel and you are good to go. Simple controls are available on the base of the camera so that any function is just a button click away.
Capture it, save it
Textbooks, maps, detailed diagrams and 3D objects can be displayed to the whole room, picking up incredibly small details often not visible to the human eye. Optoma's document cameras also allow presenters to annotate images captured by the visualiser and transform them into video clips through the recording feature.
Turn physical into digital
Sharing real-time image capture or storing image & video content for later could not be easier. Optoma's range of Visualisers seamlessly transport the physical into a digital environment whether it is a textbook or a 3D object. See detail not visible to the human eye & display to whole rooms or virtual audiences.
Amazing image quality
Display the smallest objects with more detail due to the latest lens and sensor technology. Powerful zoom capabilities further enhance this for incredible detail often not visible to the human eye.
Social distance friendly
During these challenging times with Covid 19, Optoma's visualiser range emulates the intimacy of a hands on presentation, whilst maintaining social distancing. Combine with larger screens to share with audiences bigger than you would normally be able to demo to.
Smooth video performance
Playback video content at up to 30 frames-per-second video at full resolution.
Record audio and video
The built-in microphone enables videos and audio to be recorded for multimedia content to be created for lessons and presentations.
Technické specifikace
Sensor: 13M pixels
Pixels: 13
Frame rate: Upto 60
Shooting area: A3 landscape (297 x 420 mm) (11.7 x 16.5 ins)
Output resolution: 1080p
Image capture: Yes
Video recording: Yes
Light source: 3 Stage LED
Security: Kensington Lock
USB2: Yes
Power supply: DC 5V, 100-240V, 50-60Hz
Net weight: 2.48kg
Dimensions (W x D x H) mm: 180 x 540 x 400
In the box: Power cord (UK/EU), Power Adapter, HDMI Cable, VGA Cable, USB/2 Cable, Microscope Adapters (O28mm ,O31mm, O33mm, and O34mm eyepieces), Remote Control, CD User Manual/Software
Connections: Inputs 1 x HDMI, 1 x VGA, 1 x Audio 3.5mm, 1 x USB-A reader, Outputs: 1 x HDMI, 1 x VGA, 1 x USB-A display, 1 x Audio 3.5mm, Control: 1 x RS232
.
Typ zariadenia:
Vizualizéry
Aktuálna cena produktu je
617
EUR  s dph