SPEED LINK LED set pro monitor MYX LED Monitor Kit
Pridať do obľúbených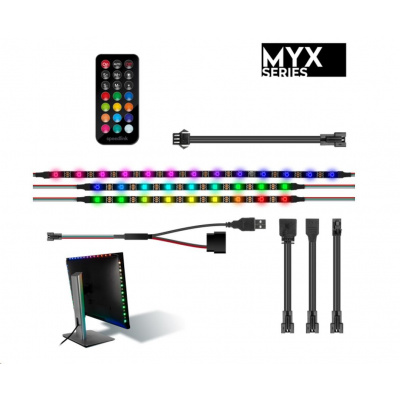 Popis
Parametre
Strážny pes
MYX LED Monitor Kit
Create the perfect gaming mood by surrounding your monitor with a blast of colour. With over 220 lighting modes to choose from, the MYX LED Monitor Kit lets you create an atmosphere that's just as diverse as your game worlds. The accompanying universal remote lets you toggle between lighting modes including a sparkling colour wave, ice-cold blue and fresh green or a cool tunnel effect. With their flexible connectors, the stripes are a breeze to position perfectly around your monitor. Plus, what's really smart is that you can combine your colourful setup with further Speedlink MYX products and control them all using the same remote. And as a special added extra the strips are compatible with a wide range of apps including Asus® Aura Sync®, MSI® Mystic Light, ASRock® Polychrome Sync, Corsair Link® and Gigabyte® RGB Fusion®, making it a breeze to add MYX strips to your systems and let your creativity run wild.
3 LED stripes with RGB lighting for one monitor
Combinable with other Speedlink MYX-series modding products (PC stripes, fans)
Over 220 different lighting modes
All modes configurable by remote control
Remote control compatible with all MYX products
Compatible with apps from a wide range of brands (e.g. Asus® Aura Sync®, MSI® Mystic Light, ASRock® Polychrome Sync, Corsair Link®, Gigabyte® RGB Fusion®)
Effects run smoothly from one strip to the next
Individually addressable smart RGB LEDs
Custom colour control of each LED
Practical Molex® connector for connecting to the AC adapter
Additional USB-A male connector for use outside the PC case
Easy to attach thanks to flexible connecting cable
Additional motherboard adapter (Asus®, Gigabyte®, MSI®, ASRock®) and Corsair® hub adapter
Incl. 3M® adhesive strip and button-cell battery for the remote control
LED stripe connector: 3-pin male and female
Connecting cable connection: Molex® female or USB-A male connector to 3-pin female
LED stripe length: 2 × 300mm, 1 × 450mm
Connecting cable length: 400mm (Molex®), 570mm (USB-A)
Overall dimensions, short stripes: 480 × 10 × 2.8mm (L × W × H)
Overall dimensions, long stripe: 630 × 10 × 2.8mm (L × W × H)
Remote control dimensions: 87 × 40 × 7mm (L × W × H)
Total weight of kit: 82g
.
Energetická trieda:
Nešpecifikované
Aktuálna cena produktu je
29
EUR  s dph