T-FORCE SSD M.2 1TB CARDEA A440 PSS, NVMe Gen4 x4 (7200/6000 MB/s) Upgrade your PS5
Pridať do obľúbených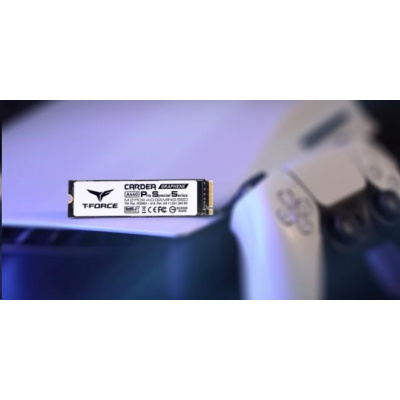 Popis
Parametre
Strážny pes
You can check the details directly via the PlayStation website:
https://www.playstation.com/en-us/support/hardware/ps5-install-m2-ssd/#min
CARDEA A440 Pro Special Series M.2 PCIe4.0 SSD
PCIe Gen4x4 Interface & Crazy Fast Read/ Write Speeds of >7000
Special Edition White Ultra-thin Patented Graphene Cooling Fins with Zero Interference
Ultra-large 4TB Gaming Storage Space
Five-year Warranty for Maximum Protection
Taiwan Invention Patent (number : I703921)
United States Patent (number : US11051392B2)
China Utlity Patent (number : CN 211019739 U)
TECHNICAL SPECIFICATIONS
Model
CARDEA A440 Pro Special Series PCIe4.0 SSD
Interface
PCIe Gen4x4 with NVMe 1.4
Capacity
1 TB
Voltage
DC +3.3V
Operation Temperature
0°C ~ 70°C
Storage Temperature
-40°C ~ 85°C
Terabyte Written (TBW)
700TBW
Performance
Crystal Disk Mark:
1TB Read/Write: up to 7,200/6,000 MB/s
2TB / 4TB Read/Write: up to 7,400/7,000 MB/s

IOPS:
1TB / 2TB / 4TB Read/Write: up to 1,000K/1,000K IOPS Max

Weight
13g (with Graphene heat sink)
Dimensions (L x W x H)
80.0 x 22.0 x 3.7 mm (with Graphene heat sink)
Humidity
RH 90% under 40°C (operational)
Vibration
80Hz~2,000Hz/20G
Shock
1,500G/0.5ms
MTBF
3,000,000 hours
Operating System
Windows 10 / 8 / 7 / Vista, MAC OS 10.4 or later, Linux 2.6.33 or later
Warranty
5-year limited warranty
Test review https://www.kitguru.net/components/ssd-drives/simon-crisp/teamgroup-t-force-cardea-a440-pro-special-series-1tb-ssd-review/
PCIe Gen4x4 Interface & Crazy Fast Read/ Write Speeds of >7000
The T-FORCE CARDEA A440 Pro Special Series M.2 PCIe4.0 SSD uses the latest PCIe Gen4x4 interface to offer incredible read/write speeds of 7400/7000 MB/s, allowing gamers to launch games at blazing fast speeds and enjoy a smooth gaming experience.
Special Edition White Ultra-thin Patented Graphene Cooling Fins with Zero Interference
Equipped with a special edition, white, ultra-thin, and patented graphene cooling fin that is only 3.7mm in height even with the cooling fin and far below the PS5 height requirements of 8mm, ensuring that gamers can easily install expanded storage without any interference.
Ultra-large 4TB Gaming Storage Space
Offers an ultra-large 4TB storage space, allowing gamers to store up to 26 AAA games (PS5 NBA 2K21 Size: 150GB). Without ever having to uninstall games, gamers can collect all their beloved games.
Five-year Warranty for Maximum Protection
The gaming memory has undergone rigorous testing and is protected by a five-year warranty, so gamers can install any and every game of their dreams.
T-FORCE
T-FORCE is TEAM force. The red "T" on the logo of "TF" represents TEAMGROUP's passion for the storage products. The black "F" represents TEAMGROUP's over 18 years of promotion of storage products. The visual design of the perfect combination elegantly symbolizes a pair of flying wings. They represent that the high quality and extreme performance gaming products from TEAMGROUP are capable of allowing all gamers to break the speed limit and enjoy the ever-changing world of gaming.
.
Kapacita pevného disku (v GB):
1 000
Typ disku:
6000MB/s a víc
Typ disku:
7000MB/s a víc
Aktuálna cena produktu je
196
EUR  s dph