Withings Scanwatch 42mm - Black
Pridať do obľúbených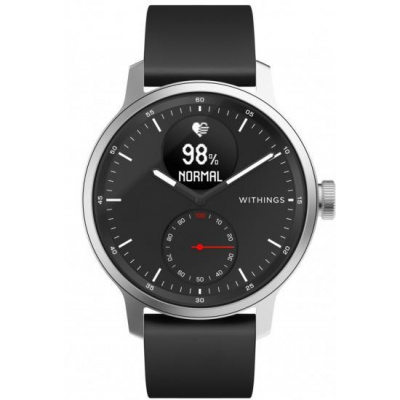 Popis
Parametre
Strážny pes
SCANWATCH
CLINICALLY VALIDATED
It's time to watch your health
COMPATIBLE WITH IOS AND ANDROID
30-DAY BATTERY LIFE
• Heart health tracking
• Respiratory monitoring
• Activity & workout tracking
• Sleep tracking
The world's most advanced health wearable
ScanWatch is the first hybrid smartwatch to continuously scan vital parameters to detect heart health conditions and help improve overall fitness.
ScanWatch boasts a medical-grade ECG, an oximeter for SpO2 measures, and an exceptional battery life of up to 30 days.
ScanWatch was developed with professionals from world-renowned institutions.
Heart health monitoring
An electrocardiogram, on your wrist.
ScanWatch can record a medical-grade electrocardiogram and detect signs of atrial fibrillation—a form of arrhythmia that can be damaging to your health if left undiagnosed. ECG readings can be easily shared with your doctor via the Health Mate app, providing valuable information to help them track your heart health.
Proactive heart tracking.
Invaluable peace of mind.
By recording heart rate periodically at the best time, ScanWatch sends a notification when an irregular heartbeat is detected and will then advise the user to record an electrocardiogram (ECG).
Respiratory monitoring
A medical-grade oximeter on your wrist
ScanWatch uses a medical-grade SpO2 sensor featuring exclusive multi-wavelength technology, so you can record blood oxygen levels from your wrist in only 30 seconds.
Track episodes of breathing disturbances during sleep
The Respiratory Scan feature monitors oxygen saturation, heart rate, breathing frequency and movement all night long. Our exclusive algorithm, developed with experts, computes the data to measure breathing disturbances, an indicator of sleep apnea.
(ScanWatch is currently pending certification for medical-grade sleep apnea detection based on breathing disturbances tracking.)
24/7 Activity & Sleep tracking
Track steps
ScanWatch helps you know where you stand on your daily step goal at glance with the activity subdial right on the watch. A 3-axis accelerometer and 10 years of algorithm improvements allow you to enjoy most accurate results.
Automatic activity detection
Take a swim, commute by bike, or go for a run—ScanWatch will automatically recognize your activity and log it in the Health Mate app. Get credit for all your moves with no button to press.
Connected GPS
Map your session and enjoy distance, elevation, and path with Connected GPS.
Workout Mode
Easily activate workout mode right on your wrist by choosing from over 30 sports. This shows your workout duration, and logs heart rate and movement continuously. Connected GPS can be used
Sleep tracking
Sleep monitoring
You just have to wear it: ScanWatch automatically recognizes when you sleep and keeps track of your sleep cycles, interruptions, and much more. On the Health Mate app you can view a detailed recap of your night as well as your overall Sleep Score. ScanWatch can also wake you up at the perfect time with Smart Wake-up.
Your daily life companion
Smart notifications
Stay connected to what matters: ScanWatch will vibrate and display a preview of your smartphone notifications for any app of your choice. You can also scroll through the notification preview with the digital crown.
Unsurpassed battery life
Make low battery anxiety a thing of the past and enjoy freedom from the charger with with a hybrid smartwatch that lasts up to 30 days between charges.
Health Mate
Follow your trends
ScanWatch automatically synchronizes with the free Health Mate app available for Android and iOS, where you can view trends, gain insights & find extra motivation with badges and programs.
Durable design
Sapphire glass
All ScanWatch models come with premium Sapphire glass renowned for its strength, durability and scratch-resistance.
Clear & bright display
With its 13mm diameter, a resolution of more than 9000 pixels, and 260 nits, ScanWatch boasts our biggest, brightest screen yet.
Digital crown
The new pressable crown gives you the ability to easily select and scroll through features.
Included premium sport band
High-performance fluoroelastomer band known for its durability, biocompatibility and comfort.
Standard bands
You're free to pair your watch with any standard 18mm or 20mm wristband—or, of course, browse for one of our compatible bands.
Water resistant to 5ATM
ScanWatch will follow you from dishwashing to the pool, as they are designed to resist water up to 50 meters deep.
.
Funkce:
Propojení s mobilem
Chytré funkce:
Vlastní ciferník
Jazyk rozhraní:
Angličtina
Materiál pouzdra:
Nerezová ocel
Materiál řemínku:
Elastomer
Notifikace a zprávy:
Notifikace z telefonu
Senzory a Hardware:
Oxymetr
Součást balení:
Dobíjecí kabel
Zobrazení času:
Analogové
Způsob ovládání:
Ovládání tlačítky
Sledování polohy a trasy:
Přes GPS spárovaného telefonu
Aktuálna cena produktu je
315
EUR  s dph