ADATA XPG ventilátor VENTO PRO 120 PWM, 4-pin konektor
Pridať do obľúbených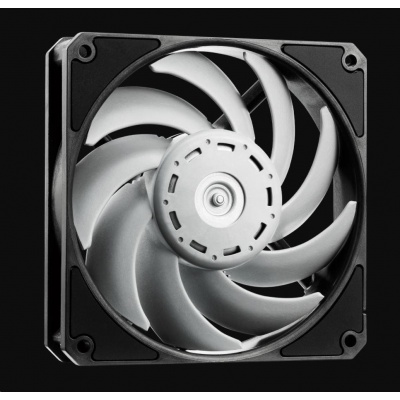 Popis
Parametre
Strážny pes
XPG VENTO PRO 120 PWM
BE AWESOME
Cooled by Nidec GentleTyphoon
4-Pin PWM Connector
Daisy Chain Capability
Dual Bearings Efficient and Silent Performance
High Static Pressure
5-Year Warranty
XPG has teamed-up with Nidec, improving the original GentleTyphoon design to provide a tailored solution for modders and PC gaming enthusiasts that want only the absolute best.
COOLED by Nidec GentleTyphoon
The best overall static pressure optimized fan makes a strong comeback for the most demanding builds in a revisited capacity.
4-PIN PWM DESIGN and DAISY CHAIN CAPABILITY
Pulse Width Modulation (PWM) allows motherboards to alter fan speed RPM dynamically and smoothly without annoying stepping.
Flat cable design paired with its Daisy Chain capability, it's easy to connect and simultaneously operate together to manage temperatures more efficiently.
HIGH PRECISION DUAL BEARINGS
Equipped with high-precision Japanese quality Dual Bearings, XPG VENTO PRO 120 PWM fan can withstand heavy duty loads and endure the highest thermal environment. Dual Bearings also operate with greater efficiency, granting quiet spinning and longer lifespan.
HIGH STATIC PRESSURE and HIGH AIRFLOW
XPG VENTO PRO 120 PWM has high static pressure up to 3.15mm H2O, and it's capable of producing up to 75 CFM airflow, making it an ideal air intake/exhaust gear to complement water cooling radiators, or to be installed at the front despite front panel and dust filter limiting airflow.
QUIETER by Nidec DESIGN
Innovative fan motor design and motor support mechanism utilize a double-vibration reduction structure and a spring instrument to greatly dampen and reduce vibration.
In addition, the fan propeller is meticulously designed to reduce the disturbing frequency fan noise to a more refined "vibration tone" better suited to human ears. In addition with the 4 anti-vibration rubber pads, XPG VENTO PRO 120 PWM operates at mere 28dB(A) even at its maximum fan speed of 2,150 RPM (100% duty cycle).
HIGH THERMAL ENDURANCE
XPG VENTO PRO 120 PWM Fan has a verified MTTF (mean time to failure) 250,000 hours at 25?, or 60,000 hours at 60? ambient, which makes it ideal for heavier duty loads, e.g. more space-constrained builds with higher internal temperatures. Taking advantage of the high precision dual bearings, XPG VENTO PRO 120 PWM Fan can quietly operate and maintain stable at a large temperature range.
TECHNICAL SPECIFICATIONS
Dimensions
120 x 120 x 25mm
Bearing Type
Dual Bearings
Connector
4-Pin PWM
Speed (RPM)
450 ~ 2150 RPM ± 10%
Maximum Air Flow
75 CFM
Maximum Static Pressure
3.15 mm H2O
Noise Level
10 - 28dBA (Max)
Fan Rated Voltage
DC 12V
Fan Starting Voltage
DC 5V
Fan Operating Voltage
DC 5V~13.2V
Fan Rated Current
0.16A (Max)
Power Dissipation
1.56W
Fan Protection
Auto-Restart
Verified MTTF (Mean Time To Failure)
25°C:250,000 Hours
60°C:60,000 Hours
Cable Length
620 ± 10mm Total
Including a 450mm Extension Cable
Daisy-Chain Capable
Weight
210g
Warranty
5 years
.
Využitie chladiča:
Do PC skrinky
Aktuálna cena produktu je
20
EUR  s dph