Canon WP-V2 podvodní pouzdro
Pridať do obľúbených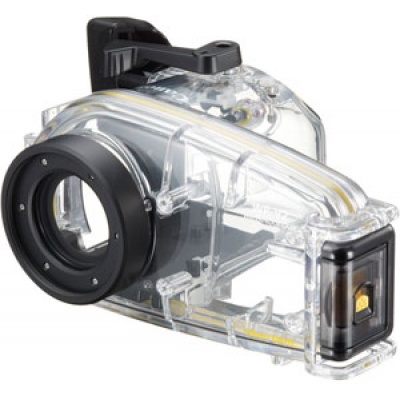 Popis
Parametre
Strážny pes
The Canon WP-V2 Waterproof Case allows you to make your diving trips live forever in your memory with the dramatic clarity and brilliance of Canon HD video. Specifically designed for the VIXIA HF M32, VIXIA HF M31, VIXIA HF M30 and VIXIA HF M300 Flash Memory camcorders, the WP-V2 Waterproof Case is engineered, built and rated to work at depths to 130ft (40m) under water. With the advanced "Underwater" and "Surface" modes of the compatible camcorders, you will have at hand the optimal white balance setting to capture true color underwater and on the surface while shooting with the WP-V2 Waterproof Case. A minimum object distance of approximately 2" (5 cm) from the front glass of the WP-V2 allows you to record exciting underwater detail up close. Wherever in the world you dive to find extraordinary marine life, the WP-V2 and your compatible VIXIA HD camcorder are ready to ensure that not one thrill goes unrecorded.
Features:
Waterproof Rating
The Canon WP-V2 is rated waterproof at depths to 130ft (40m). The same engineering excellence you expect in a Canon camcorder is found in this lightweight yet strong design. A body made from Solid Polycarbonate delivers high impact resistance and is light weight, with the benefit of impressive clarity - you see your compatible VIXIA camcorder inside this "clear wet suit" almost as if it's directly in your hands. A white plate glass lens window ensures minimum distortion for the Genuine Canon lens on the camcorder within.

Control Features
Capturing the sharp, vivid HD video of which your compatible VIXIA camcorder is capable, even underwater, requires the ability to access its full capabilities. With the WP-V2, it's easy. At your fingertips are direct control buttons for record start/stop, telephoto and wide zoom, photo capture and preview. Your hands stay right on the controls you need to make fast adjustments or to focus on your subject.
Easy to Handle
The Canon WP-V2 fits the VIXIA HF M32, VIXIA HF M31, VIXIA HF M30 and VIXIA HF M300 like the proverbial glove. Its tailored form, approximately 9.2 x 4.4 x 6.7 in. and the approximately 2.7 lbs of total weight* means no unnecessary bulk - maneuver underwater they way you want to. This ease of handling makes the WP-V2 the ideal companion for the aquatic cinematographer.
.
Typ příslušenství:
Voděodolná pouzdra
Aktuálna cena produktu je
477
EUR  s dph