Cooler Master herní křeslo Synk X, Gen1, TypeF, šedá
Pridať do obľúbených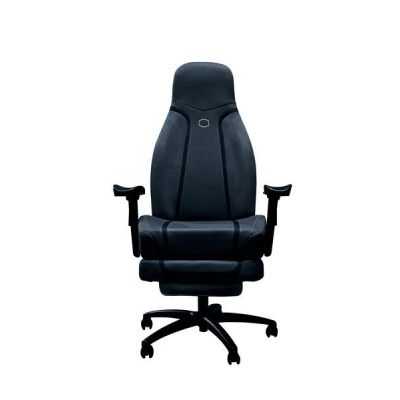 Popis
Parametre
Strážny pes
Synk X
Synk X is a cross platform immersive haptic chair integrating next gen technologies to present an amplified immersion in video games, movies, and music. Designed with a streamlined exterior and delicate craftsmanship, Synk X perfectly blends lifelike entertainment into a modern tech lifestyle.
By converting sound waves into vibrations and providing real time tactile experiences, Synk X offers a sensation of the surrounding and atmosphere from video or audio sources. In addition to the true to life experiences, customization is also supported to match each and every user's personal need with features including: an ergonomic design with a 135 posture bracing backrest, adjustable armrests that offer multiple settings for seat height, seating position, and reclining angle, a built in control interface for selecting audio sources, vibration levels, and headphone volume. Furthermore, Synk X makes the operation easy and intuitive without complicated settings or APP requirements.
Designed for sensing the tension in a battle game, engaging in the adventurous journey from a film, or grooving with the musical beats, Synk X provides a new way of immersing in the imaginary world for an enhanced user experience.
Lifelike Immersion - Ultra low latency conversion of sound waves into vibrations to provide real time tactile experiences for engaging in the virtual surrounding and atmosphere.
Constraint-free Entertainment - Support for a variety of content types and hardware platforms such as TV, PC, game console, and mobile to match differing hobbies or preferences.
Customized Preference - An adjustable ergonomic recliner design as well as multiple modes of user preferences provide a more personalized entertainment experience.
User-friendly Experience - All in one system to avoid hassles due to installation and complicated setting requirements.
Durable and Smooth Operation - A highly stable rolling base along with a long lasting powerful battery to provide uninterrupted extended entertainment durations.
Modern and Tech Identity - A streamlined exterior design delivers a smart tech appearance to add modern delicacy to people's daily life.
Solid Frame and Structure - Built strong with a well constructed frame and support to withstand long hours of vibration operations.
Premium Seat Material - Using select breathable fabric to offer high quality texture and advanced comfort.
Handy Switch and Control - Quickly adjust the seat and other settings to fit personal preferences with the built in control interface and 4D armrests on both sides of the chair.
Two-stage Retractable Leg Rest - Providing options for advanced comfort and different postures to satisfy individual needs.
Cooler Master Halo Illumination - Creating an elegant and high tech atmosphere with 7 modes of ARGB lighting effects to match user preferences.
Stable Battery - Compliant with stringent regulations and battery protection to ensure user safety.
TECHNICAL SPECIFICATIONS
Product Name
Synk X
Chair Dimensions (W x D x H)
27.2" x 22" x 48" ~ 51.2", 69 x 73 x 123 ~ 133 cm
Chair Weight
64 lbs , 29.4 kg
Color Choice
Ultra Black, Lunar Gray
Chair Material
High density molded memory foam upholstered in breathable fabric
Safety Load
300 lbs. (136 kg) human body bearing
Safety Load on Rolling Base
2800 lbs. (1300 kg)
Main Body
Steel and wood frame
Gas Lift Height Adjustment
90 mm, class 4 grade
Armrest Height Adjustment
90 mm
Recline Angle
135°
Frequency Range
20 Hz ~ 200 Hz
Battery Module
Rechargeable lithium-ion battery pack (8-cell)
14.8V 5200mAh, core cells of LG
Provides approximately 8 hours of continuous music play and 4 hours of continuous use of intense bass effects
Charging Time
About 6 hours
Latency
5.6 ms
Receiving Range
100 ft (35 m), line-of-sight
.
Typ príslušenstva:
Herné stoličky
Aktuálna cena produktu je
1070
EUR  s dph