Gigaset C575
Pridať do obľúbených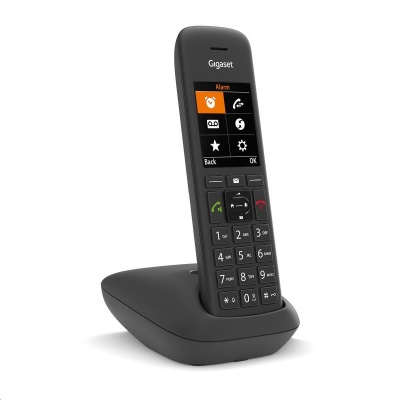 Popis
Parametre
Strážny pes
Gigaset C575
Comfort in every detail.
• Slim design, superbly ergonomic, powerful technology
• Large TFT colour display (58 mm/2.2") with modern user interface
• Large address book for up to 200 contacts with 3 numbers each
Enjoy communicating in comfort
The Gigaset C575 cordless telephone provides the perfect symbiosis of design, ergonomics and power for maximum comfort and convenience when telephoning. The slim design makes it easy to hold and combines an elegant appearance with modern technology: Smart and compact on the outside and full of practical ideas inside, this reliable family phone is wonderfully user-friendly. Thanks to the outstanding voice quality and optimum acoustics, making phone calls becomes a pleasure.
See everything you need at a glance: with the Gigaset C575
The convenience of the Gigaset C575 telephone starts with its simple navigation. Then there's the clearly contrasting, large TFT colour display offering plenty of useful features: excellent legibility of graphics and letters, six symbols to enter the main menu, plus a Jumbo mode showing all the figures on an extralarge scale. Combined with the widely spaced illuminated keys, the Gigaset C575 reaches new heights of intuitive operation and convenience.
All your contacts conveniently on hand
Make managing your contacts as easy as possible: The Gigaset C575's large address book can store up to 200 contacts, with name and first name, plus 3 phone numbers for each one. The programmable speed dial keys will put you in touch with whoever you're calling without having to key in long numbers. Another practical touch: The Birthday Reminder means that you'll never forget your loved ones' special days – and with the VIP tune, you'll recognise particularly important callers just by the ring tone. In addition, you can easily exchange address book entries between all your connected Gigaset mobile units.
Now you can personalise your telephone easily, just as you want
The Gigaset C575 includes a range of personalisation options so that you can adjust the phone to suit your habits and preferences. You can decide between various screen savers and colour schemes for the display texts, or set up special ring tones for all the callers who are important to you. And another useful feature: Choose between 2 acoustic profiles, to give the right frequency range for your optimum hearing experience.
Switch off once in a while - with protection against unwanted calls
If you're not in the mood for talking, you can ignore certain phone numbers or anonymous callers by adding up to 15 numbers to your blacklist - when activated, this function either rejects calls from these numbers or simply shows them on the display without the phone ringing. You can add undesirable numbers to the blacklist manually or copy them from your call history. You can also prevent the phone from ringing for anonymous calls (i.e. those without caller ID) and even set time periods during which the phone should or shouldn't ring.
Even greater flexibility - with a multitude of compatible handsets
Use your phone wherever you need it: The Gigaset C575 can be expanded to up to six handsets, which you can place anywhere in your home. So whether you're in the kitchen, the bedroom or your home office, you'll always have a phone to hand.
.
Aktuálna cena produktu je
44
EUR  s dph