RAZER sluchátka Nari Ultimate pro Xbox One, černé, 2,4 GHz, herní
Pridať do obľúbených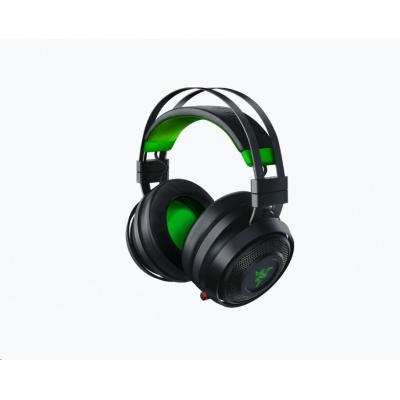 Popis
Parametre
Strážny pes
RAZER NARI ULTIMATE FOR XBOX ONE
When it comes to gaming immersion, sound plays a critical role. It engages your sense of hearing to determine the atmosphere and mood, creating a lifelike experience that lets you truly embody your game character. Standing by this philosophy, we've built a headset with THX Spatial Audio to bring you 360° positional sound, giving you greater spatial awareness. We've also added ergonomic design features to make this one of the most comfortable daily drivers for gaming. This is the Razer Nari.
The Razer Nari is designed so that its immersive technology is complemented by comfortable features, letting you escape into game worlds for hours without strain.
Cooling Gel-Infused Cushions
Reduces heat build-up during intense gaming sessions
Auto-Adjusting Headband
Maximum adjustability to fit seamlessly onto any head size
Swiveling Earcups
Adapting to the shape and position of your ears
Game/Chat Balance
Fine-tune between game and chat volume for the perfect mix that lets you enjoy immersive sound without interrupting team communication.
2.4GHz Wireless Audio
Get lag-free, high-fidelity gaming audio with a wireless range of up to 12 meters smoothly without disconnection.
Wired Mode
Get seamless cross-platform compatibility via a 3.5 mm audio jack in wired mode. Enjoy high quality stereo sound whether you're playing on PC, consoles or mobile.
THX Spatial Audio goes beyond traditional surround sound by simulating sound in a 360° sphere around you. With the Nari Ultimate, you can now react to any in-game movement, even if it's coming from above or beneath you, giving you heightened senses during your game. Unleash your predatory instincts with sound as a weapon.
Feel the impact of every battle via HyperSense with the Razer Nari Ultimate, or simply enjoy incredible gaming sessions with the comfortable ergonomics of the Razer Nari. If you're looking for a gaming headset that's just as comfortable and can run wirelessly for long hours, then we've also got the Razer Nari Essential.
AT A GLANCE
THX Spatial Audio
Cooling Gel-Infused Cushions
Game/Chat Balance
Lag-Free Wireless Performance
Powered by Razer Chroma™
HEADPHONES
Frequency response: 20 Hz – 20 kHz
Impedance: 32? at 1 kHz
Sensitivity (@1 kHz): 107 ± 3 dB
Input power: 30 mW (Max)
Drivers: 50 mm, with Neodymium magnets
Inner ear cup diameter: Width 56mm / Length 67mm
Oval ear cushions: Designed for full-ear coverage with cooling gel, perfect for long-wearing comfort
Connection type: Wireless USB Transceiver / 3.5mm analog
Wireless range: 12 m / 40 ft
Wireless frequency: 2.4 GHz
Analog connection: 4 – pole
Battery life: Up to 14 hours with Razer Chroma lighting / 20 hours without Razer Chroma lighting
MICROPHONE
Frequency response: 100 – 6.5 kHz
Signal-to-noise ratio: > 50 dB
Sensitivity (@1 kHz): -42 ± 3 dB
Pick-up pattern: Unidirectional
SYSTEM REQUIREMENTS
PC with USB port; PlayStation™ 4*
Windows™ 10 / Windows™ 8 / Windows™ 7
Internet connection for driver installation
At least 500 MB of free hard disk space

* Only Static cycling lighting effect and 2.0 stereo audio output is available
.
Rozhranie slúchadiel:
2,4 GHz bezdrôtová technológia
Vlastnosti slúchadiel:
Ovládanie hlasitosti
Aktuálna cena produktu je
216
EUR  s dph